Nina's birthday cake of DOOM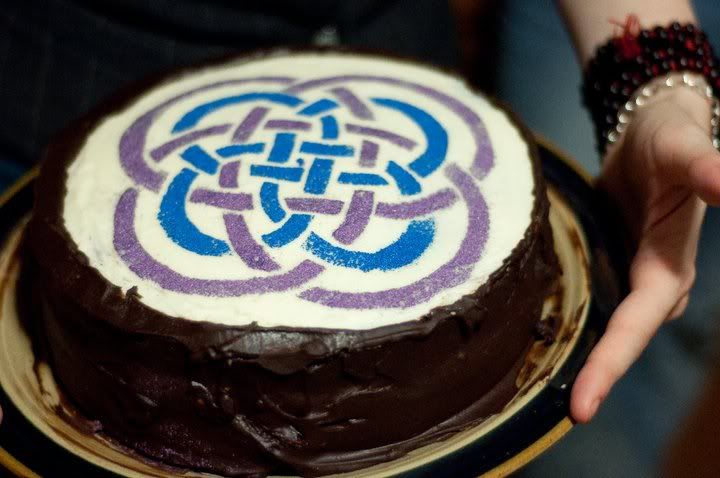 Nina's birthday party was Saturday, and
there were balloon animals
! Also, I had fun making her a shmancy cake, which got some compliments, so I thought I'd post the various recipes for my own easy access and in case anyone else wants to make it.
The Best Chocolate Cake Recipe My Mother Has Encountered in [Redacted] Years of Searching
1 cup butter (2 sticks)
1/2 cup Dutch process cocoa
3/4 cup coffee
2 cups granulated sugar
1 cup sour cream
1 tablespoon vanilla extract
2 large eggs
2 cups all-purpose flour, stir before measuring
1 teaspoon baking soda
1/2 teaspoon salt
Heat oven to 350°. Melt butter in a large saucepan over medium-low heat; add cocoa, stirring until smooth. Whisk in the coffee and remove from heat. To the warm cocoa mixture, add the sugar, sour cream, 1 tablespoon vanilla, and eggs; whisk until smooth. In another bowl combine the flour, soda, and salt. Add all at once to the first mixture, whisking until well blended. Pour batter into 2 9" cake pans. Bake for 25 to 35 minutes, or until it feels firm to the touch and has slightly pulled away from the sides of the pan. Cool in pan on a rack for 20 minutes. Carefully loosen the cake with a knife and invert onto a large plate. You'll want one cake bottom/flat side up and the other cake curvy/top side up.
Meanwhile, make
Chocolate Ganache
9 ounces bittersweet chocolate, chopped
1 cup heavy cream
I actually used 72% cacao super-dark chocolate for this, since frosting #2 is ridiculously sweet. Chop the chocolate into tiny bits and place in a bowl. Heat the cream in a saucepan on medium and keep a careful eye on it -- the second it boils, pour the cream over the chocolate bits and stir until thoroughly blended. Voila! Ganache. So easy.
When the cake is totally, entirely cool, spread a layer of ganache on the exposed surface of each cake (one flat, one round). Put the cakes in the freezer to harden the ganache.
Meanwhile, make
Mint Buttercream Frosting
1/2 cup butter (1 stick)
2-3 cups powdered sugar
1/4 cup milk
1/8 teaspoon all natural peppermint extract
Melt the butter. Stir in sugar till it won't hold any more. Add milk. Add sugar to taste and texture. Add peppermint extract OH SO CAREFULLY or your frosting will taste like toothpaste.
Remove cakes from freezer and spread a layer of the mint frosting -- about half of it -- on the cake presenting the flat surface. Invert the other cake onto it and slather the whole thing in ganache. You'll probably have extra. Stick the cake in the freezer and root around for something else to put ganache on. Fruit works, or other cookies, or ice cream, or a spoon. Snack while the ganache on the cake gets hard.
This is a tricky bit. Remove cake from freezer and spread the rest of the mint frosting on top,
without letting it mix with the ganache
. Now you have a flat, white canvas on top of the cake. And here's where things get optional.
You can sprinkle chocolate curls on top. You can write "HAPPY BIRTHDAY" on it. Or, if you're me, you can go to the cake decorating store on 22nd and 6th, buy some edible glitter, print out two copies of an intertwined Celtic knot, razor them out, lay one on the cake and tap the glitter onto it using a tea strainer, carefully trade the stencils out and repeat with the other color of glitter, and then listen to the appreciative chorus of oohs and ahhs and wtf you are crazies.
Serve to lots of people; if you're lucky, your friend Nicole will have brought homemade pomegranate chocolate chip ice cream to go with it.