Indian Neck Folk Festival 2011
Three weeks ago, I went up to the woods in Connecticut to attend the Indian Neck Folk Festival. It. Was. Awesome. We sang, like, all the time. We sang in the synagogue, we sang on porches, we sang four to an umbrella when the skies opened up Saturday afternoon. We even sang in a gazebo. Click/scroll for pictures and sound clips!
Non-musical highlights include the baby goats and the field trip to the cat retirement home; the tasty food and 24/7 tea and coffee station; doing yoga in a yurt on Sunday morning, a practice we dubbed "yogurt"; playing with a baby human; having friends end up with the
quilt I made
for the silent auction; and breathing this air:
And thank goodness for my digital voice recorder, because otherwise the weekend would just be a sleep-deprived jumble of cute creatures, terrible puns, and music, music, music. (Note: all these sound files are just samples, about 30 seconds long.)
I heard songs I want to learn, like "Sweet Thyme"
and "Ghost of William-O"
and "I Can Hew"
I heard new versions of old favorites, like Ken doing "Green Willow Tree"
or Charlie's rare mountain-ballad version of "Rudolph the Red-Nosed Reindeer"
I heard intricate harmonies
and beautiful solos
and I heard the rafters ring
The only lowlight of the weekend was my new-found nemesis, social anxiety. But even that... I leaned on Ken, Kate, and Andrus to help me out, and they were totally cool. That was a good feeling. And even if I did have to duck out of singing a few times, I ate every meal in the dining hall. And I went to the big concert for a little while. I expected to go to Indian Neck and have problems, but I didn't expect to feel triumphant about the hard things I did well. So that's a silver lining.
Did I mention the baby goats? They frolic AND they cuddle. Here is Andrus with one: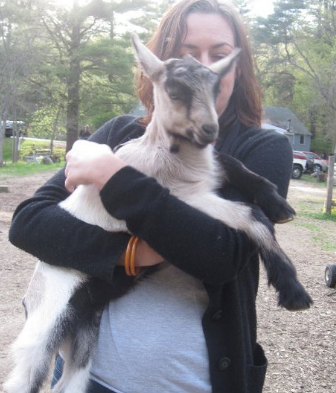 What a weekend. Lots to ponder now, mostly musical. I feel like I'm still very much learning to use my voice, learning what sounds good on me, deciding what doesn't really sound good on me but is so awesome I want to sing it anyway -- this goes for both styles and individual songs. Will I ever have a wailing Appalachian voice like Elizabeth? No. But I still want to learn "The Evangelist's Letter."
Will I ever be a big burly dude from Yorkshire? Unlikely. Will I still sing "Steelmen"?
Shit, yes. That song is amazing.
But sometimes, with just the right song, when I've thought about it and worked on it and practiced my ornamentation -- sometimes, I can get this:
And that makes me want to, pardon the metaphor, find my voice in a more sustained way, to get out from under the temptation to mimic and feel like I have an identity as a singer. It's good to have lifelong projects.
More folk festivals, please.